HOW IS SURGERY DONE AND WHY?
Years ago the only choice was to bring the patient to the United States, Canada or another Southeast Asian developed country. Now that is cost prohibitive and not necessary because heart surgeries take place in Viet Nam at either Hue Medical College/Hue Central Hospital or at Hoan My Hospital in Da Nang. Surgery is affordable by Western standards with excellent follow-up care. To date, after 61 procedures, the mortality rate is 0.02%, which means the majority of surgeries have been successful and without complications.

While VWAM has sponsored dozens of heart operations, there are more children that need them. In fact over 600 children, teens and young adults are on Hue Medical College-Hue Central Hospital and Hoan My Hospital "waiting list." Money is a huge problem for these poor families and one they rarely, if ever, solved. Their child is going to meet an early death unless there is a miracle. You can help us make that miracle happen.

Think of what is really important to you. One heart surgery sponsor said, "I have never felt better about the giving of my money than to this cause. I will carry the memory of this child in my own heart until the day I die."

HOW ARE PATIENTS CHOSEN FOR HEART SURGERY?
In the words of Vets With A Mission's former Medical Director, Dr. David Jester, "it's the policy of Vets With A Mission to screen patients and find that special patient. It is a patient who can't afford it and otherwise wouldn't get the surgery. It has to be surgery that will drastically alter their life, giving a child, teen or young adult a chance at life, because without the operation, the individual would die."​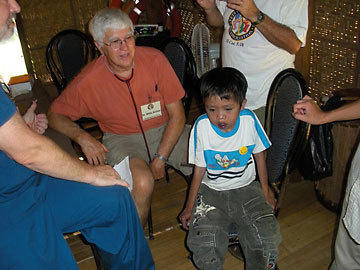 HOW ARE PATIENTS SCREENED?
Vets With A Mission humanitarian medical teams offer free primary healthcare examinations for the poor. Typically a patient is one who does not have health insurance or access to health services. The patient's vitals and history are taken in triage. The patient is then seen by one of our doctors. A diagnosis is made, treatment recommended, and prescriptions are written. Prescriptions are filled from the VWAM Pharmacy, and if the medicine needed is not on hand, VWAM gets it for them.

If an operation is recommended, the patient is sent to the hospital for further tests and confirmation of the diagnosis. VWAM pays for these test, hospitalization and transportation assistance, if needed. Once financial need is verified, the patient is then notified of a heart surgery sponsorship. Arrangements are made with the Hue Medical College-Hue Central Hospital in Hue, Thua Thien Province or Hoan My Hospital in Da Nang, to have the procedure done.

Vets With A Mission's in-country liaison participates in this process from the very beginning. This person verifies costs, follows treatment, serves the patient and their family. When it's time to "pay the bill" the entire family goes with VWAM's representative to the hospital. That's because we want them to understand the role of Vets With A Mission and the generosity of their sponsor.

It's at this point VWAM's rep shares the humanitarian reasons behind this sponsorship, and VWAM's ministry  contacts share  the spiritual reasons of "Why we did this for them?"